Post by davet on Feb 24, 2016 20:54:05 GMT
Just found some photos which brought back some memories. But first the story.
Back in 98' I got a phonecall which I thought was a wind up. A guy called Austin Vince said he was making a programme about bikers and someone had given my name (pugwash had originally turned it down after big Phil from Newcastle gave them his name first). Anyway after Max 'pugwash' Clifford had passed them on to me, I had a sort of telephone interview, obviously to make sure I wasn't a nutter.
He couldn't get it into his head that someone could like scooters AND motorbikes. As in the UK you were either into bikes or scooters, not both. Errr, no! Anyway plans were made and they were coming to film for a whole day for a programme to go out on Channel 5 called 'Hell for Leather'. They asked if at some point they could film my mates. Pugwash doesn't like the limelight so disappeared like Max Clifford after a school bus.
At the time we visited a few scooter club establishments and Cloud 9 were happy to turn up and do the deed. Now if anyone can remember when channel 5 started out, they were a bit alternative, so when I told people I was going to be in a programme on channel 5 called 'Hell for Leather', the replies ranged from "does it involve midgets and Vaseline" to "I'm so proud of you", you can guess which one was my mum!
Anyway with a week to go I hatched a cunning plan. They were due to ring me two days before to make sure everything was still ok. I knew they were on a tight deadline to when they rang I told them I'd want paying as I had to take a day off work. I got a "HOW MUCH" reply when I asked for £100. They said they'd see what they could do. So filming day came and I got a plastic coin bag with £92 in slummy and small notes, coz "that's all we had".
A film crew composing of producer, cameraman, soundman, assistant and female presenter Yvonne Baird, I think that was her name, did the full hit. From 8hrs of filming I got about 8 minutes of fame. They filmed us both on the scooter and bike and then down the scooter club, with them all going mental (including me) on the waterfront. We has a blast.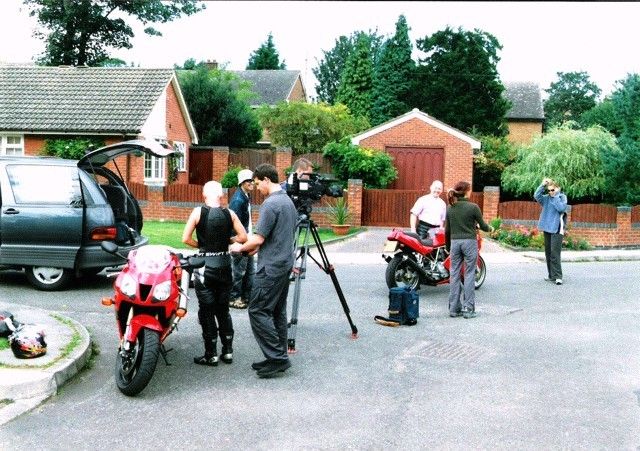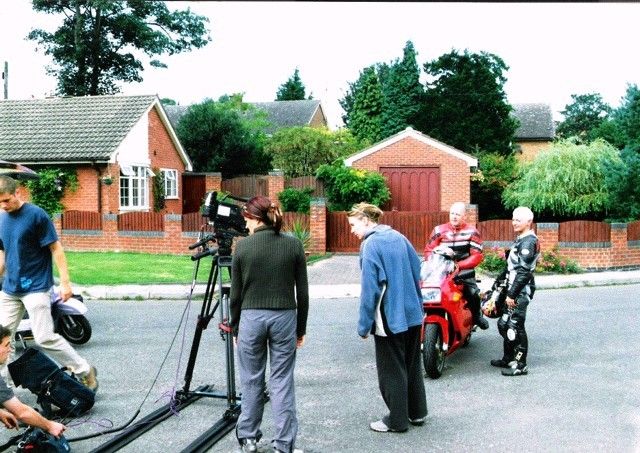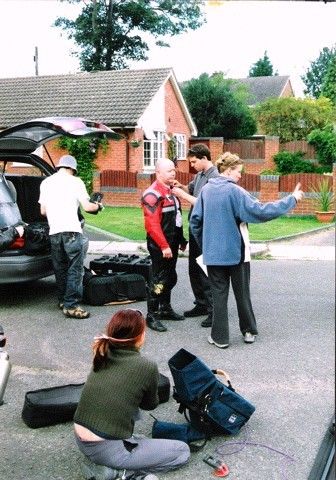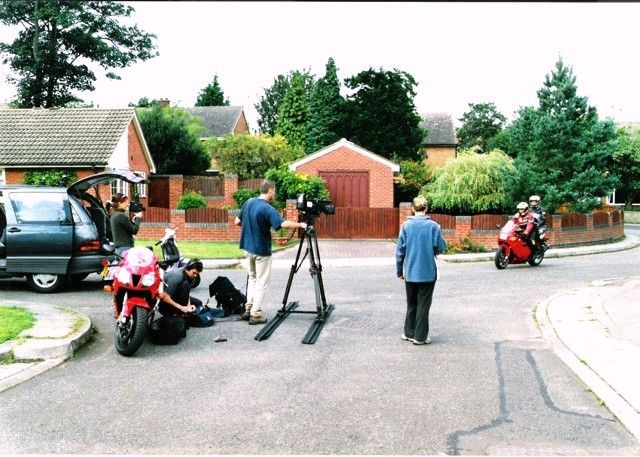 And finally the one with the smally in.